Hicksville is considered a major hub on Long Island and there are several ongoing efforts to make Hicksville living even better.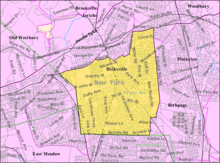 Hicksville, NY voters recently approved a bond referendum on Nov. 14.
The best news is that the two approved propositions come with no additional tax to Hicksville residents. The first proposition will allow for needed facility and educational upgrades for the community like library media centers and technology rooms. The second proposition will allow for a newly built Aquatic Center, which will include an indoor pool and locker room facilities.

Additional information is available on the district's website at hicksvillepublicschools.org.
Eric Alexander and the Vision Board recently attended a forum with the Hicksville Downtown Revitalization Initiative Planning Committee. According to Eric and the Vision Board Staff, Hicksville is looking to create and support friendlier community spaces and support business activity while being mindful of traffic issues for residents. Some ideas discussed included mini parks, walking paths, and an elevated community space…
The public will consider project ideas at the next public meeting on December 13th from 7-9PM at the
Hicksville Community Center.